Regular price
$150.00 CAD
Regular price
Sale price
$150.00 CAD
Unit price
per
Sale
Sold out
Spice things up with a sticker! Give yourself the waifu and husbando experience in your side panel
Shipping & Returns

Stoneforged Technology always strives toward the satisfaction of our customers. If you have a question about a return/refund, please email us at support@stoneforged.tech. Refunds may be requested within 30 days of the purchase date from our website for preassembled computers only. Custom PCs are only refundable 24 hours from the purchase date. Refunds may be subject to a restocking fee as determined by the sole discretion of Stoneforged Technology. Any shipping and handling fees are non-refundable. Item(s) must be in original condition with all original packaging.
Share
View full details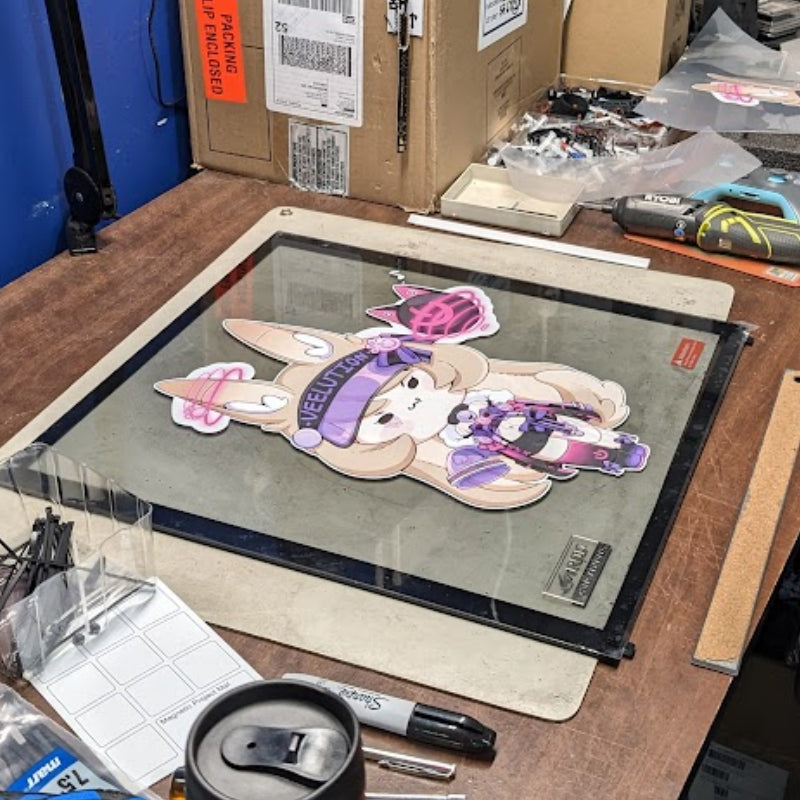 The Custom Stickers
The premier service for adding a personalized touch to your PC. We understand that aesthetics play a significant role in the overall appeal of your computer setup, and with Custom Sticker, we offer a convenient and professional solution to apply a sticker of your choosing to your PC.

At Custom Sticker, we take pride in our attention to detail and commitment to customer satisfaction. Our skilled technicians are experienced in applying stickers to various surfaces, including PC cases. We handle each sticker with care, ensuring a smooth and precise application that enhances the visual appeal of your PC without compromising its functionality.

To begin the Custom Sticker process, we have streamlined the ordering system to make it easy for you. Simply select the sticker option during the checkout process and upload the picture you want to be transformed into a sticker. We accept a wide range of image formats (tiff, bmp, gif, jpeg, and png), ensuring compatibility with your preferred picture.

Once your order is confirmed, you have two options for initiating the service. You can either drop off your PC at our warehouse in person or ship it to us at your expense. We understand that convenience is essential, so we provide these two options to accommodate your preferences. If you choose to ship your PC, we recommend using a reputable shipping service that offers tracking and insurance options to safeguard your valuable equipment during transit. Additionally, we advise securely packaging your PC using appropriate materials to minimize the risk of damage during transportation.

Upon receiving your PC at our warehouse, our dedicated team of technicians will handle it with the utmost care. They will clean the surface area where the sticker will be applied, ensuring a smooth and debris-free surface for optimal adhesion. Our technicians will then proceed with the sticker application process, following industry-standard techniques to ensure a precise and long-lasting result.

At Custom Sticker, customer satisfaction is our top priority. We understand that your PC is not just a tool but a reflection of your personal style and identity. Therefore, we strive to deliver a custom sticker service that meets your expectations and enhances the overall aesthetics of your computer setup. Throughout the process, we maintain open communication addressing any questions or concerns you may have.

A custom sticker is your trusted partner in adding a personal touch to your PC. With our expertise and attention to detail, we aim to provide a seamless and visually appealing sticker application service. Experience the satisfaction of a customized PC that reflects your unique style and personality. Contact us today to start the process and elevate your computer setup to the next level.

Please note that the cost of shipping the PC back to you will be a separate fee from this service. Once we have completed the service and thoroughly tested your PC, we will securely package it for return shipment. Our team will provide you with the details regarding the shipping options and associated costs for sending the PC back to your desired location. Rest assured, we will assist you in coordinating the return shipment and provide any necessary information or documentation required.