Regular price
Sale price
$99.99 CAD
Unit price
per
Sale
Sold out
PC crashes, bluescreens, no boot, no display, etc. We will diagnose, film, and repair it. (Does not include part replacement or hardware swaps, those will be extra)
Shipping & Returns

Stoneforged Technology always strives toward the satisfaction of our customers. If you have a question about a return/refund, please email us at support@stoneforged.tech. Refunds may be requested within 30 days of the purchase date from our website for preassembled computers only. Custom PCs are only refundable 24 hours from the purchase date. Refunds may be subject to a restocking fee as determined by the sole discretion of Stoneforged Technology. Any shipping and handling fees are non-refundable. Item(s) must be in original condition with all original packaging.
Share
View full details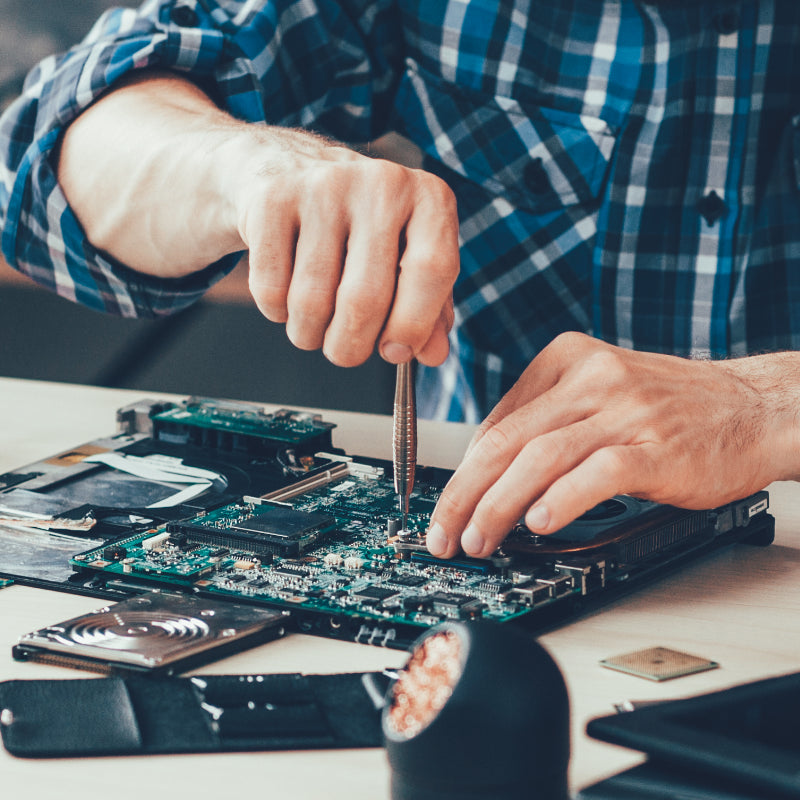 The Diagnostic & Repairs
Diagnostic & Repairs, your trusted service for diagnosing and resolving various PC issues. We understand the frustration and inconvenience that can arise from problems such as crashes, bluescreens, boot failures, and display issues. With Diagnostic & Repairs, we offer a comprehensive diagnostic process to identify the root cause of the problem and provide the necessary repairs to get your PC back up and running smoothly.

At Diagnostic & Repairs, our team of experienced technicians specializes in diagnosing a wide range of PC issues. We utilize advanced diagnostic tools and techniques to pinpoint the underlying problem accurately. Whether it's a software-related issue, driver conflict, system error, or other technical glitch, our technicians are well-equipped to tackle the challenge.

To initiate the diagnostic and repair process, you have the option of either dropping off your PC at our warehouse or shipping it to us at your expense. We strive to provide convenience and flexibility, allowing you to choose the method that suits your schedule and preferences. If you choose to ship your PC, we recommend using a reputable shipping service that offers tracking and insurance to ensure the safe transportation of your valuable equipment. Additionally, we advise securely packaging your PC using appropriate materials to minimize the risk of damage during transportation.

Once your PC arrives at our warehouse, our skilled technicians will begin the diagnostic process. They will meticulously examine your PC, taking note of any error messages, symptoms, or irregularities. We may also utilize advanced software tools to run diagnostic scans and tests to gather more information about the underlying issues.

After a thorough diagnosis, our technicians will communicate their findings to you. We will provide a detailed report that explains the identified problem(s) and recommended solutions. If the issue can be resolved through software tweaks, driver updates, or system optimizations, we will proceed with the necessary repairs. However, please note that our service does not cover part replacement or hardware swaps.

Throughout the repair process, we maintain open communication with you, keeping you informed about the progress and any additional recommendations or steps that may be required. We understand the importance of transparency and aim to provide clear and concise information about the repairs being conducted.

Once the necessary repairs have been completed, our technicians will thoroughly test your PC to ensure that the issues have been resolved. We will run additional diagnostics and perform comprehensive system checks to verify the stability and functionality of your PC. Our goal is to deliver a fully repaired and reliable system that meets your expectations.

Please note that the cost of shipping the PC back to you will be a separate fee from this service. Once we have completed the service and thoroughly tested your PC, we will securely package it for return shipment. Our team will provide you with the details regarding the shipping options and associated costs for sending the PC back to your desired location. Rest assured, we will assist you in coordinating the return shipment and provide any necessary information or documentation required.